Ages 12-14  |  July 19-29
Let your spirit soar!
Intermediate students are inspired to step out of their comfort zone and discover the courage to be themselves. This course increases students' awareness of the inner journey as they take on the responsibilities during a multi-day hiking trip into big mountains and as they climb on rock faces, paddle lakes, and stretch themselves in the high and low ropes. Students are also introduced to volunteering. The Intermediate course emphasizes teamwork and draws out students' willingness to be open and participate in reflective discussions while they learn to appreciate new sides to themselves, other people and the world around them.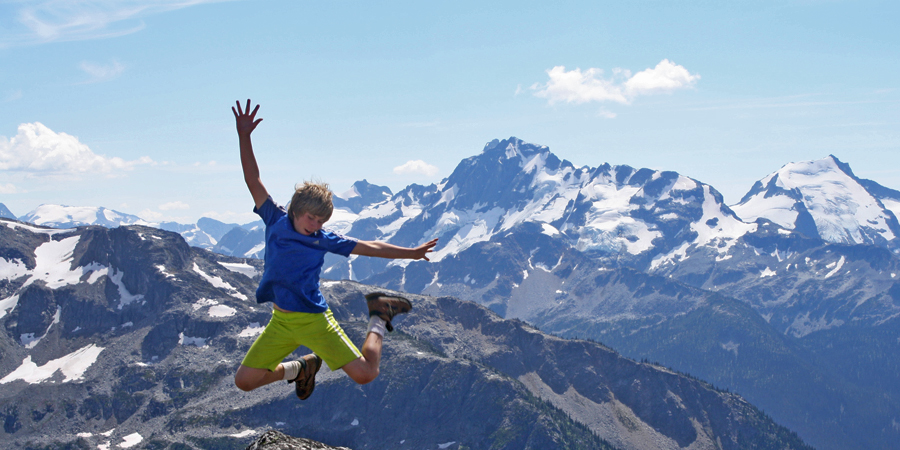 Frequently Asked Questions
Frequently Asked Questions
Do I need to bring everything on the equipment list?
Yes! What's on the list is what we consider to be the essentials for the safety and comfort of each participant. If you are coming with a friend you can share biodegradable soap, biodegradable shampoo and bug repellent. Do your best to borrow what you don't have or check out thrift stores.
Do you have any equipment to rent?
We have a limited number of sleeping bags and back packs for rent. The cost for renting is $25 each for the duration of the course. Sleeping mats (for camping in the mountains) are available for $10 for the course. Please contact the Educo office to reserve.
We also have extra warm clothing and some rain gear to lend out. We have a limited supply though so please do your best to borrow/bring what you can and if you're still missing something after that, we'll outfit you when you pack for your out-trip with your group. There is no rental fee for warm clothing and rain gear.
Do I have to bring hiking boots?
We recommend a medium-weight hiking boot with ankle support to prevent sprains. If you are purchasing new boots, wear them around home for a few days before arriving for your course. This will help break in the boots and prevent blisters.
How many people are on a course?
Our camp holds a maximum of 50 students. Each course group is divided into cabin groups of 8-12 students, with whom most of your course activities will take place.
If I come with a friend will I be in the same group with them?
Yes, you can request to be in the same cabin group with a friend, but requests aren't guaranteed. Because our student groups are so small (8-12 students) we grant a maximum of one cabin buddy request per participant. Part of the Educo experience is making new friends!
How do you choose your staff?
Our staff are chosen for their abilities with people and children, their integrity and their enthusiasm for life. Many of our staff have started as Educo students. Applications, interviews, current criminal records checks, external certifications and internal training are required steps that all our staff need to complete. Check out our Risk Management Plan to learn more about our staff requirements and meet the staff on our staff page.
Who owns Educo?
Educo Adventure School is a non-religious, non-profit, charitable society registered in B.C. It is run by a Board of Directors who hire an Executive Director to run the organization. The Executive Director hires the Program Director to handle the operation of the programs and the program site.
How do I get to Educo?
%0