About Educo Adventure School
Educo Adventure School acknowledges that we live, learn, and teach on the traditional territories of the Secwepemc Nation.
Educo Students
Hike mountains, paddle canoes, and climb mountains.
Educo Adventure School's Mission
Inspiring young people for life through transforming wilderness experiences. Young people are encouraged to invite challenge, express themselves, support each other, accept opportunities and participate in the adventures of life.
Educo's Camp Site
At Little Holden Lake, in the Cariboo Region of British Columbia is 160 acres of forest, lakes and mountains. The camp site is off-grid, meaning there are no electric amenities nor internet / mobile phone service there.
Programs, Equipment and Facilities
Educo continually strives to ensure all equipment, facilities and programs are scrutinized by appropriate agencies so the experiences provided are safe. Association memberships are maintained and renewed as required. Accreditation standards are complied with with inspections welcomed when renewals are required.
Educo Adventure School is a program of the JUMP! Canada Society, a registered Canadian charity.
Associations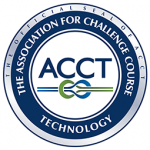 ACCT develops, refines, and publishes standards for Installing, maintaining, and managing challenge courses; provides forums for education and professional development; and advocates for the challenge course and adventure industry.